Cycling Administration System
Powerful planning resource for all levels of professional cycling teams.
The Cycling Administration System (CAS) portal is a planning tool that is designed to work across multiple disciplines and competition levels in the world of competitive cycling. From planning stage races and one day races, to team events and trainings camps, the portal is designed around your team's needs.
Using a customizable calendar, the portal will allow you to plan and track the use of team resources throughout the entire year. CAS allows you to manage detailed information on riders, staff and travel to make planning easy, while ensuring that you can avoid scheduling conflicts. Resources such as bikes, team fleet vehicles, road bibles, and medical updates can also be managed within the portal.
Designed to be mobile-friendly, with instant updates for everyone's calendar, CAS means that all members of your organization will have access to the plan anywhere in the world.
What is CAS for?
CAS is designed around a professional cycling teams day-to-day functions of moving riders and staff along with equipment to and from races and events as well as between races and events. Detailed race plans are created by logistic staff regarding race details, meetings, travel, accommodation and pickup/drop-off of staff and riders. CAS allows for all planning information to be accessed in one place, by any member of your team.
Capturing this much detail in one plan can make communication difficult across your organization. It is important that every team member knows what is expected of them, and what resources are available to get the job done. CAS can assist in making both the planning and communication aspects of your team's operations efficient and clear.
Case Study: 2023 Tour de France
In the following example, we have taken real data from CAS used by teams at the 2023 Tour de France. A grand tour will have more detail and logistics challenges than most races. Beyond the race info for each stage, and the roster of staff and riders, the Tour typically includes extra media and sponsor personnel, as well as a long list of information on accommodations and transportation.
While this amount of detail can be overwhelming, CAS is designed to deliver pertinent and timely information, personalized to each individual within your organization. To understand how this work, let's first look at an overall race plan for the Tour de France, 2023*(all data has been anonymized and sensitive information has been redacted where necessary).
The races and events dashboard view displays the full race calendar. This view is where you can click on the event to view the full race plan or click on an icon to download a pdf version of the plan.
How it Works
Using CAS during the planning process ensures that everyone is on the same page when it comes to time execute the plan. As you can see, there is a large amount of information captured in the 2023 race plan. Next, we will walk through some of the basic steps involved in capturing all this information and getting it in to the right hands. The first step is to set up your race calendar.
Calendar
The calendar is the heart of the CAS portal. Using the portal to build your plan for the season means you can effectively monitor all resources, travel and personnel while saving time. CAS makes adding detailed information to your program easy, while offering a clear and concise view for riders and staff.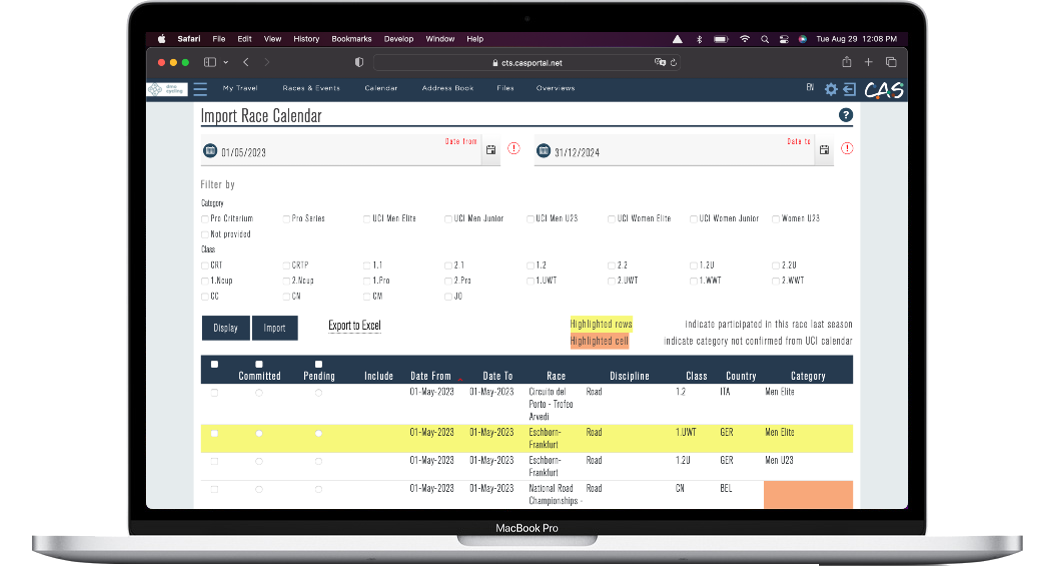 Import Race Calendar
The first step to planning your season is to import the race calendar. CAS compiles a list of all UCI, World Tour, and professional level races as soon as they are published. Filter races by category and class, choose the events you want, and select import. The whole process of importing the UCI race calendar can be done in a matter of minutes.
Any information provided in the UCI calendar, such as organizer contact information and dates, will be automatically imported. Sponsor events, media events, and unsanctioned races that require planning can easily be added manually.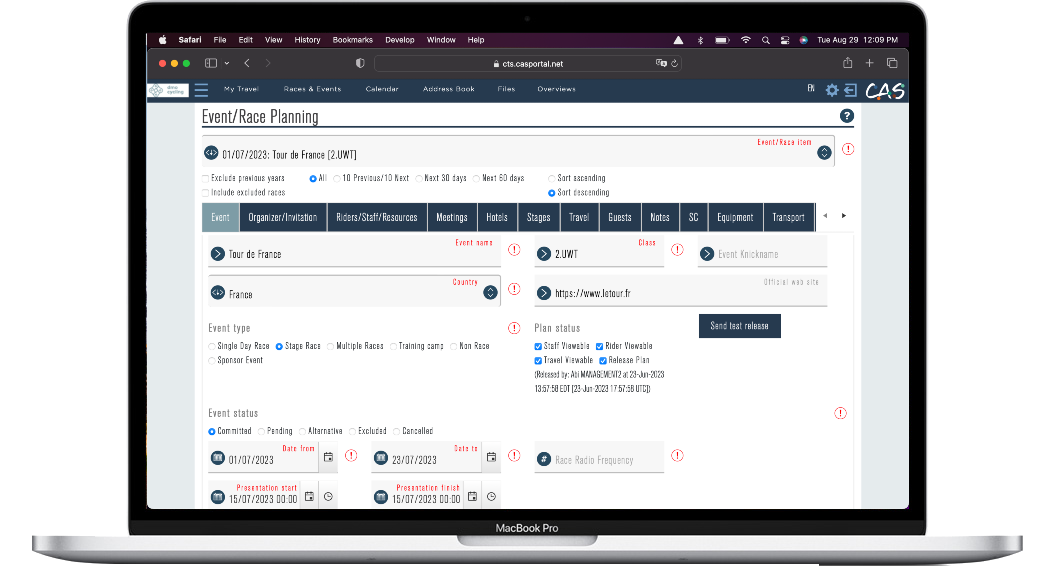 Event and Race Planning
Once a race is added to your program, start to assign tasks and add all planning details. Notes can be added so that your staff can have an extra level of detail provided.
The detail list can be customized, but typically include:
DS Meeting times and locations
Vehicle/transport assignments, including departure times and locations
Hotels
Stages
Travel
Service Course tasks
Sponsor, Media, or other guest information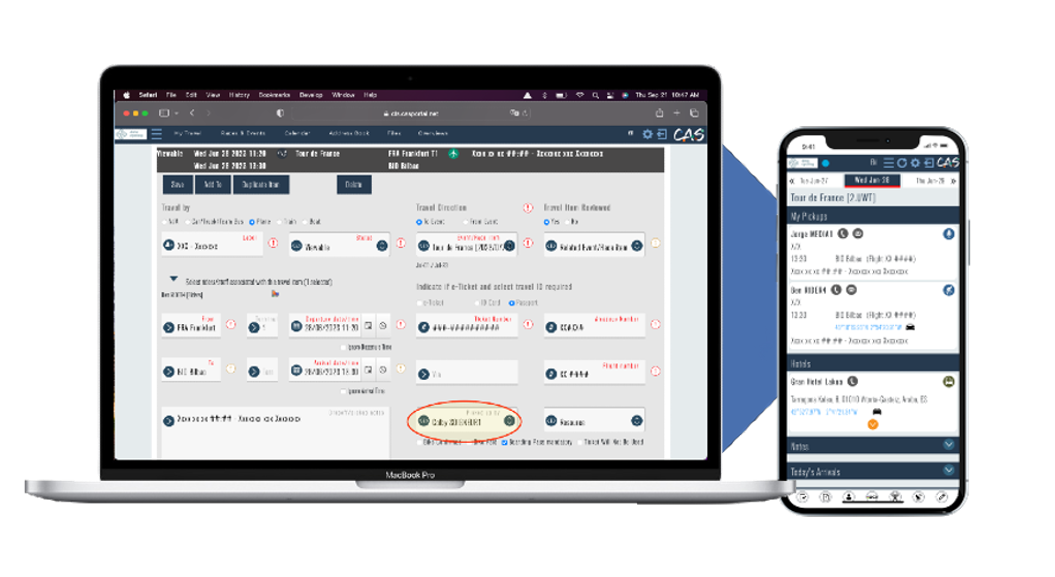 Manage Travel
All travel plans for all personnel can be managed directly in the CAS portal. Through the manage travel option, it is easy to provide detailed information for all your riders and staff. You can even include who will be picking them up at the airport.
Any changes made to the plan will be updated in the appropriate user's My Travel and My Day tabs.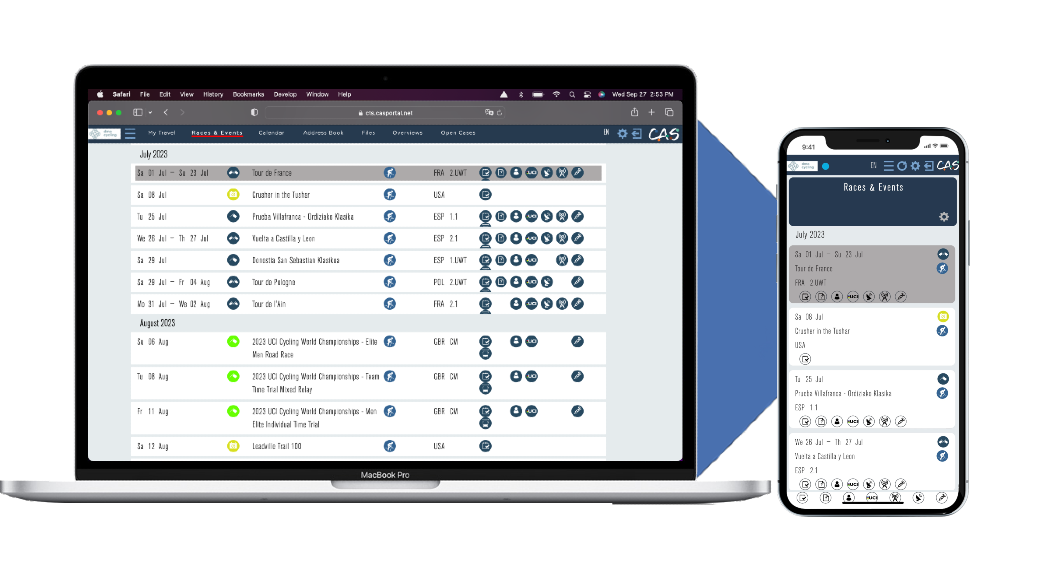 View Race Plan
The View Event/Race plan function gives you an overview of the entire plan for a single event, allowing you to see a full list of staff, key dates, and resources.
DS Day Planner
The DS day planner allows your Director Sportif to add meetings, assign tasks, or simply add extra detail to any event or race day. From this tool, the DS will be able to make vehicle assignments for the day and even assign specific staff to each feedzone location on a race route. Any assigned tasks made through the DS day planner will appear automatically in the My Day view for the appropriate user.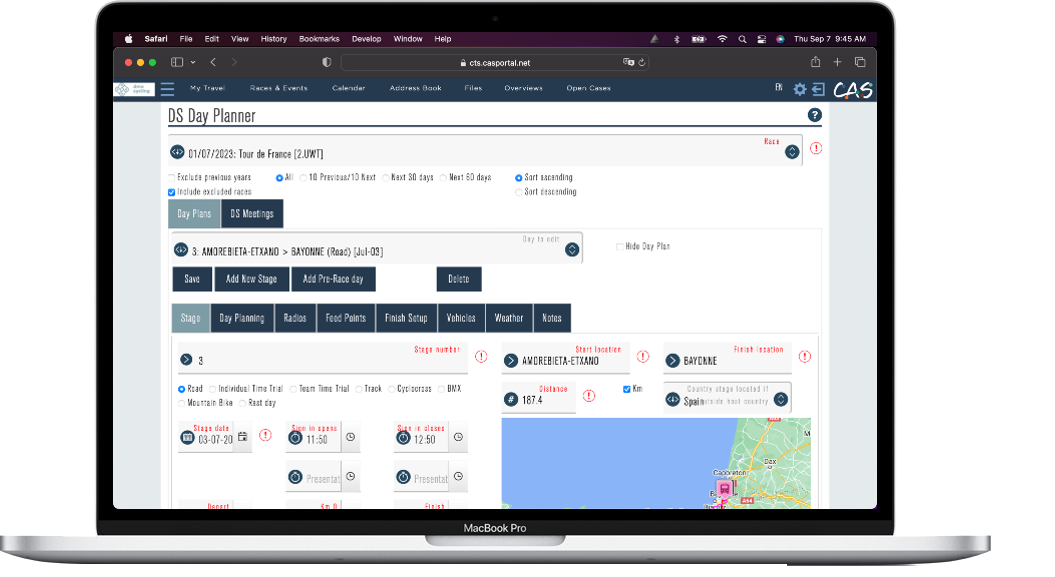 Race Day Overview
The race day overview shows all of the information for the stage (or single day race) including locations, times, and maps. From this view, the DS can add or edit information, or select specific functions to edit such as race meetings, feedzones, radio information, etc.
Note that a DS can also add stages to a race or pre-race days from this view.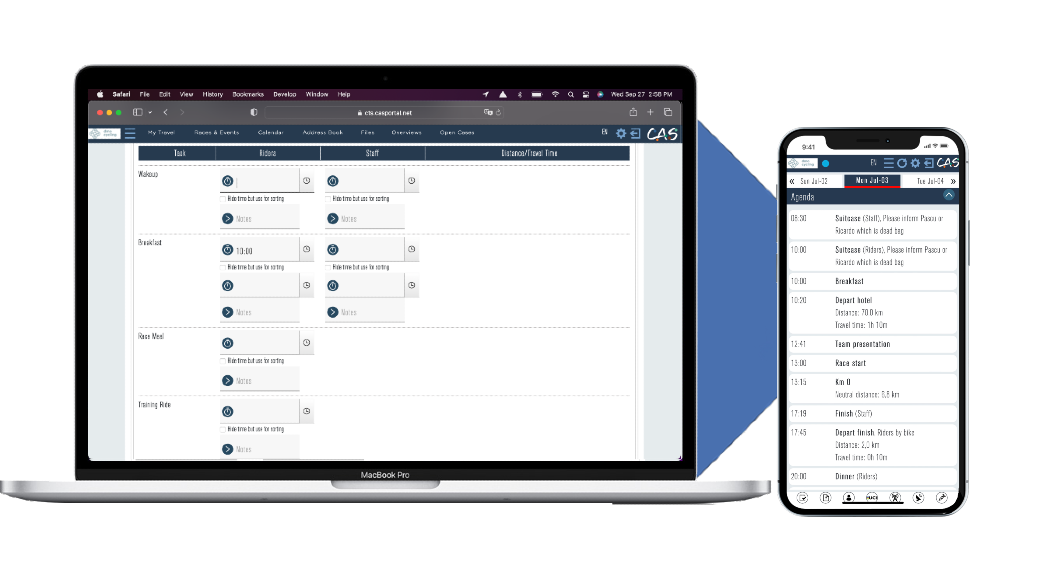 Day Planning
Wake up time, breakfast, recon ride; the schedule for anything that is planned for the day can be edited in the Day Planning tab. Likewise, new meetings and activities can be added to the day plan. Through this option, the DS can add as much detail as needed for their riders and staff for the day to ensure that everything runs smoothly.
Once a detail is added to the day plan, it will appear in the My Day view for all riders and staff assigned to the race.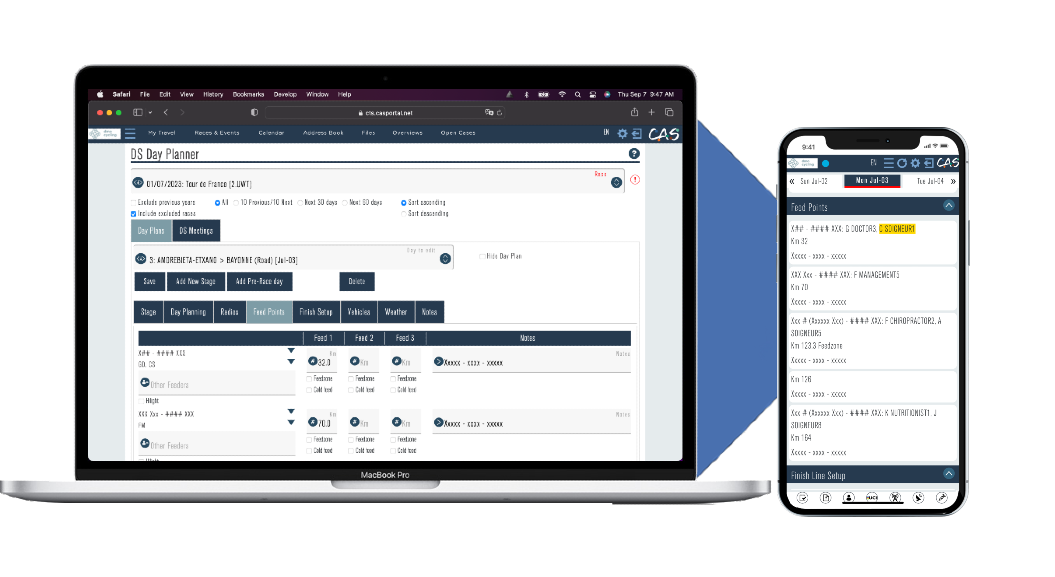 Feed Points
Teams can use the established feed points from the race route organizer and add custom locations for roadside feeds or support. Individual staff members can be assigned to each location. When they consult the My Day view, they will be able to see which feed locations are assigned to them.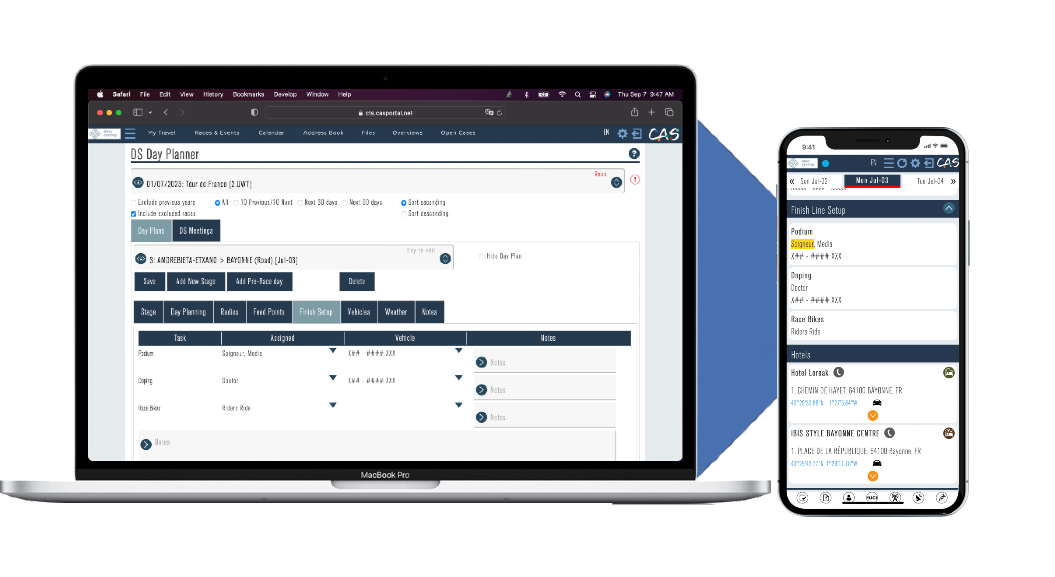 Finish Set Up
Finish lines can be chaotic! Assign specific tasks to staff members through the DS Day Planner. Whether it is a soigneur to help an athlete attend a podium, or a doctor to assist with doping control, detailed notes and all other pertinent information will appear in the My Day tab for each staff member assigned.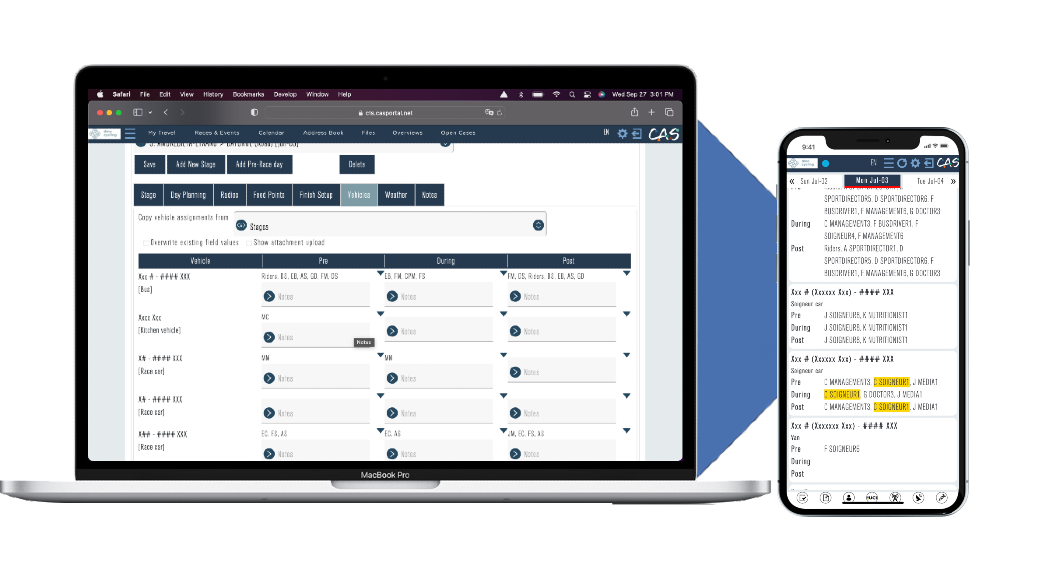 Vehicle Assignments
Not only does the DS planner allow you to assign staff to tasks, but you can also assign staff to vehicles to make sure that everyone knows how they are getting to their location. Add mechanics to cars in the caravan or let your soigneur know who is dropping them at their assigned feed zone.
This feature can also be used to plan how media and guests of the team will be moved around during the stage to ensure that no one is left behind or waiting on the roadside.
Riders
Race and event scheduling is only one of the benefits offered by using the CAS portal. You can also manage your roster of riders directly in the system. Roster selection within each calendar event means that each athlete will have the latest information on where to be, and when. Each athlete can also have their medical and training information added to their profile along with bike fit measurements and preferences.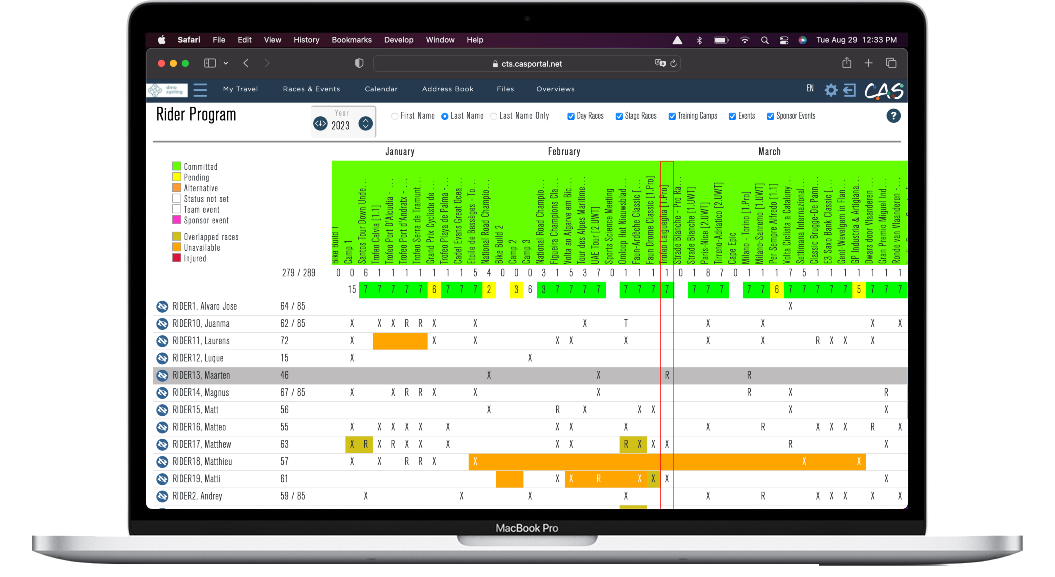 Rider Program
At some points during the planning process, it is helpful to view the full year of events and races. CAS allows you to view the program for all riders so that you can view and edit their commitments throughout the season.
Using the Edit Rider Program function, you can view a full list of events and races, for each rider. Either view the list of the full roster, search by individual riders, or filter based on event or race type. This high-level view makes it easy to avoid scheduling conflicts during a busy season.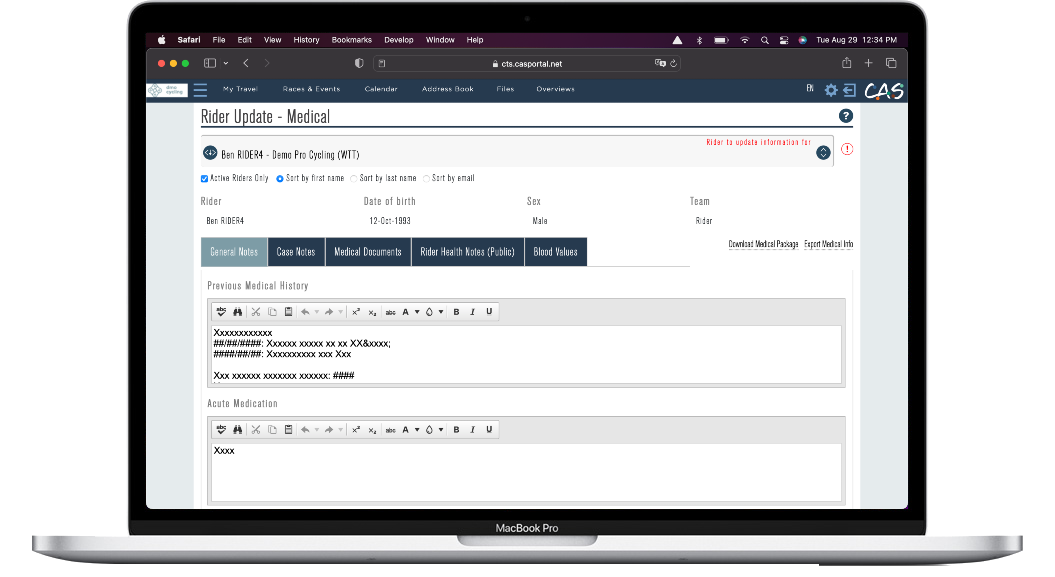 Medical Update
Medical history, updates, and changes to health for each rider can be logged and tracked securely through CAS. Blood Values test results can be uploaded quickly, and a history is automatically saved. Notes can be added by medical staff or other medical staff as needed, making communication on medical matters easy and transparent.
Access to the secure medical section of the platform is restricted to medical personnel only.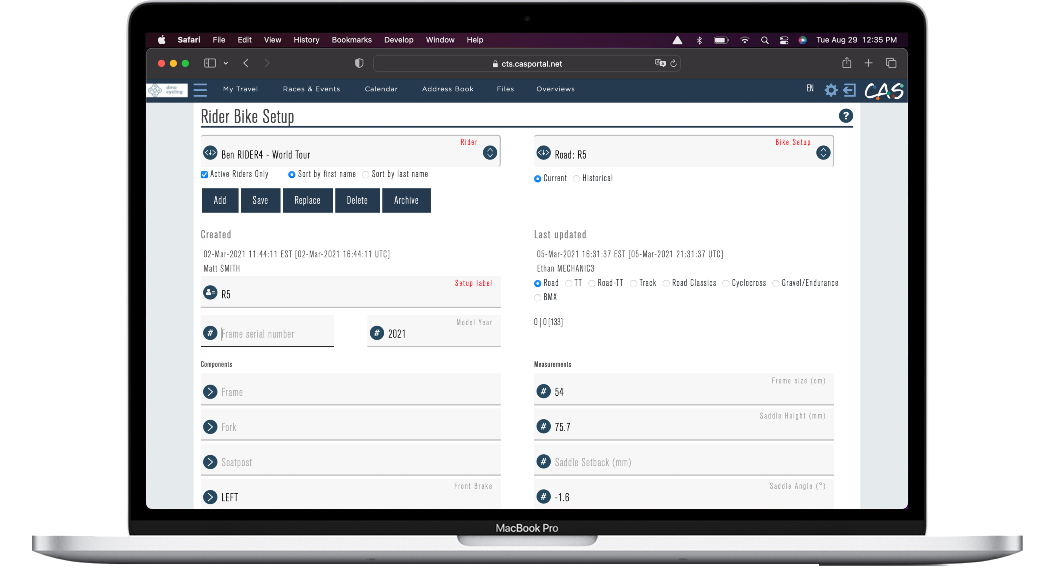 Bike Profile
Bike set up details for each athlete can be easily imported, stored, and edited directly in CAS. Mechanics can access the bike set up details on their in a mobile-friendly view. If connectivity is an issue, the details can be downloaded by mechanics ahead of time in pdf format.
Staff and Resources
Integral team resources, such as members of the staff, along with any fleet vehicle or equipment, can also be tracked within the CAS portal. All resources can be added to events and races, and be managed in the calendar, similar to the rider program.
Staff Program
The Manage Staff Program option allows you to view the staffing plan over the course of the year to avoid conflicts in your staff schedules. Filter by staff role, or individual staff name to focus your view on specific plans and make any required changes.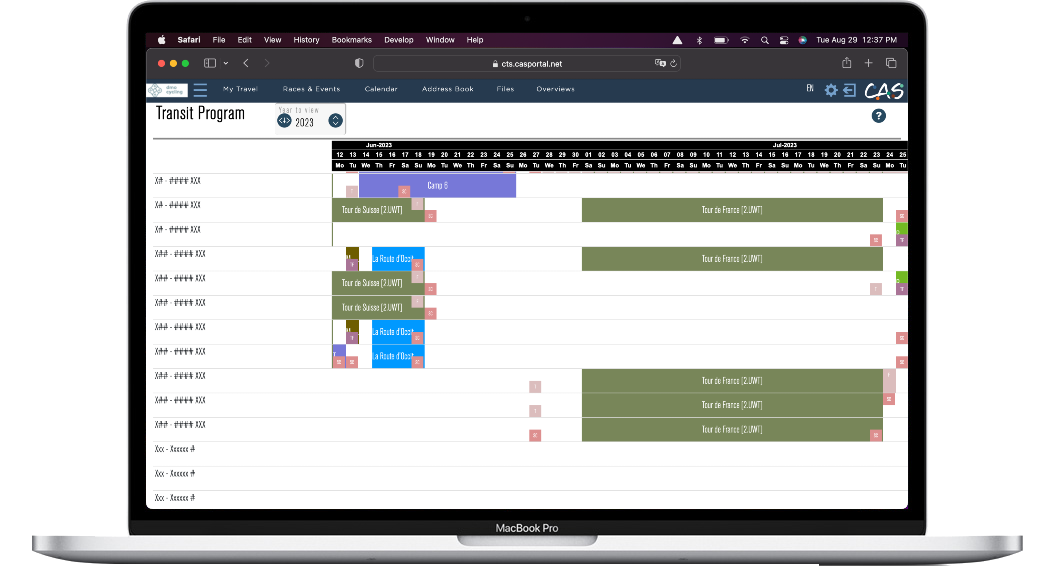 Fleet & Resources
CAS allows you to manage fleet vehicles, transport programs, and radio licenses to ensure that all resources can be accounted for in your plan. You can easily look at the overall year plan and make changes to vehicle assignments.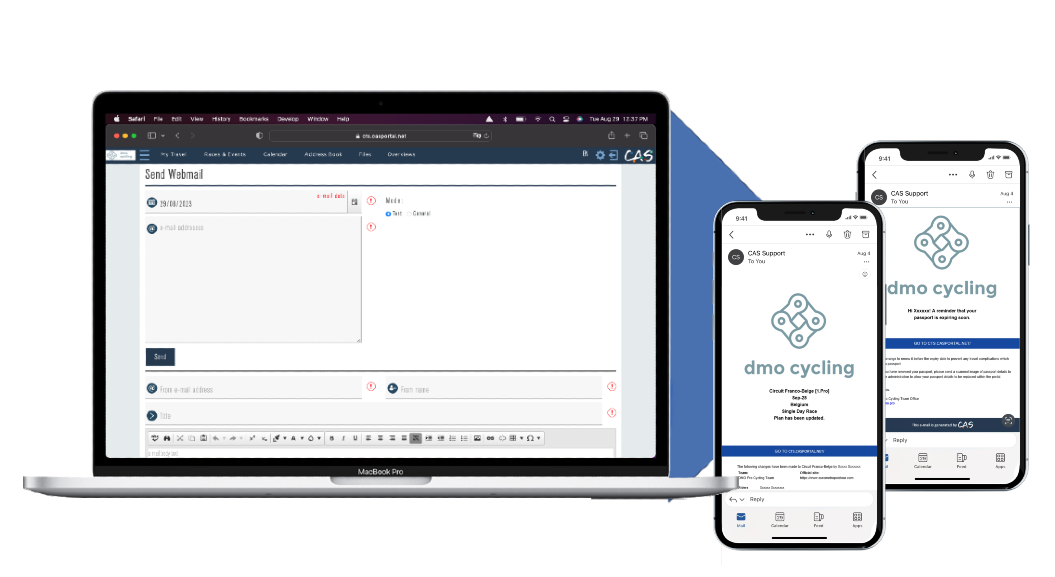 Communication
Communication is built right into the platform to ensure that all personnel have the information they need each day. When updates are made to any event, the changes will appear in the My Day tab. CAS can also be configured to send automatic email messages to let all personnel know of changes to their schedules and send reminders for important dates like passport renewal.
Outside of scheduled events, team news and emails can be sent to any members of your organization, directly through the communication tab.
Contact Us
Interested in a full demonstration of the portal? Send us an email and we'll arrange a walk through.
Used By
CAS is the planning tool of the professional peloton. It is used by the following teams to power their season.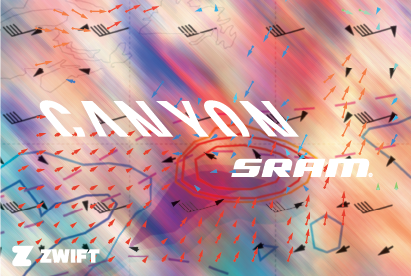 © 2023 CodeSmithery Corp. All rights reserved.